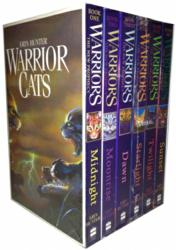 Leicester, Leicestershire (PRWEB UK) 31 December 2012
For the first time, the Worrior Cats fans can get the complete six books collection nicely gift wrapped togethor. Allowing more people to read this amazing and exsiting series.
Warrior Cats is a series of children's fiction novels published by HarperCollins; it is written by Erin Hunter. The series follows the adventures of four Clans of wild cats,ThunderClan, WindClan, ShadowClan, and RiverClan, in their forest homes. This is a must read for all.