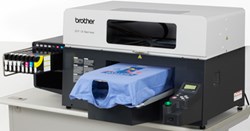 "This machine will support our growing blue chip clients who are embracing online customisation potential" said CEO Gavin Drake "it will also support our growing fashion clients".
London, Manchester, Glasgow, Barcelona (PRWEB UK) 29 November 2013
The company continues to improve upon their already impressive DTG printing machines. Due for installation in the coming days are two Brother GT381's and a Viper 3000 pre-treatment machine.
Having years of experience with Direct To Garment DTG t shirt printing and in the garment printing industry as a whole, it comes as little surprise that Garment Printing chose this latest generation Direct Inkjet Garment Printer from Brother. With an impressive array of updated specifications, the GT-3 series really enhances operations for Garment Printing. Featuring a unique modular construction, all the printers in this innovative series allow you to expand as your business expands, and with expansion always at the top of Garment Printing's to do list, it really is a match made in heaven. Having opted for the largest of the three printers in the series – the GT-381, Garment Printing will benefit from the option to print up to 1200dpi, practically guaranteeing photographic fabric quality results on printed designs. With CMYK and 4 white print heads, this combo of eight print heads with single pass printing will allow for increased productivity and speed, and give Garment Printing further opportunity to maximise their position as the fastest t shirt printing company as they continue to lead the field.
Having printed and embroidered extensively for television, media, fashion, music, advertising companies and global brands, Garment Printing are taking their service to the next level with this printer. Productivity rates will increase, printing quality standards will be enhanced and services will be faster, and all just in time for Christmas! With sales rates at an all time high, it seems like Santa Claus has come early for this innovative printing company and they are keen to share this festive spirit with their many clients, businesses and individuals alike.
Its worth noting there is a 25% Discount on all DTG printing in December 2013 with the promo code DTG GT381.
About Garment Printing
Garment Printing is a leading international promotional and customised clothing company, offering a complete range of bespoke printing techniques. The company, founded by CEO, Gavin Drake in 2003 has worked with global brands including Mindshare, Coca Cola, Skype, Google and Saatchi & Saatchi.
Garment Printing's consultants work with marketing teams and promotional agencies to deliver printed clothing campaigns to budget and its global supply chain provides express turnaround and excellent customer service.