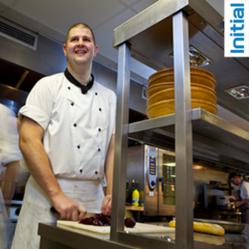 Initial is proud to be able to tackle two of the major causes of food contamination – hands and equipment – for customers that need to comply with food safety legislation.
Cape Town, South Africa (PRWEB UK) 25 April 2013
Cross contamination is the transfer of harmful micro-organisms to food, and whilst it can occur anywhere in the food production cycle, there are 3 main agents of contamination that can put kitchen hygiene at risk: food to food contamination, hands to food contamination and equipment to food contamination.
Food to food contamination occurs when cooked or ready-to–eat foods become contaminated with bacteria transferred from raw food products. According to the Food Safety Information Council, "hands are among the obvious culprits in transferring bacteria from raw to ready to eat food, but direct contact with raw foods, dirty chopping boards, knives and other cooking implements can also spread the contamination. Chopping boards, plates and knives that have been in contact with raw food need to be carefully washed with warm water and detergent, then rinsed and thoroughly dried before being used for ready to eat foods."
Over and above hands transferring bacteria from raw to cooked food, hand to food contamination occurs when hands which have touched a contaminated surface (such as a bathroom toilet seat) then transfer those bacteria to food products in the kitchen. "When you consider how many surfaces we touch everyday, and how many pairs of hands touch the same surfaces every day, it's not surprising that poor hand hygiene – especially in a kitchen environment – can have disastrous consequences" says Jeff Ellis, Sales and Marketing Director at Rentokil Initial. Initial offers a wide range of hand hygiene solutions, including waterless hand sanitizer gel and wipes suitable for use in the kitchen.
Equipment to food contamination can occur when kitchen equipment is not regularly disinfected. Daily cleaning services – while essential – is not sufficient to mitigate this risk inherent in commercial food preparation areas. The periodic deep cleaning and sanitation of commercial kitchen equipment is required to prevent the increase and spread of contaminating organisms.
To meet this need for intensive kitchen cleaning services, Initial offers CaterClean; a specialised kitchen hygiene service for commercial kitchen deep cleaning. The CaterClean service includes expert dismantling of kitchen equipment, deep cleaning, sanitising, reassembling and then testing.
Food safety legislation also requires the commercial kitchen to address the potential risk of contamination of food products with cleaning chemicals and materials. Commercial kitchen deep cleaning should therefore only be done by qualified professionals, using food-safe preparations. Initial's CaterClean hygiene services are performed using SABS-approved Food Safety solutions and following stringent Health and Safety standards. This process is in line with HACCP food safety compliance and the relevant documentation is issued after each service to ensure compliance is documented.
Attention is also paid to the floor, scullery room, pot washing areas, sinks, preparation tables, racks and waste disposal area in a CaterClean service. Initial's trained, experienced and professional hygiene service technicians are able to reach areas the daily cleaning services team may not be able to clean effectively.
Initial recommends that kitchens in heavy use (12 to 16 hours per day) receive a quarterly CaterClean service. Kitchens in moderate use should be serviced at least every six months, while kitchens used between two and six hours a day will benefit from an annual specialised deep cleaning service. "Commercial kitchens have very little downtime. Our CaterClean kitchen hygiene services are flexible enough to be scheduled for when is convenient to the customer, even if this means at night, on a weekend" says Ellis.
"Initial is proud to be able to tackle two of the major causes of food contamination – hands and equipment – for customers that need to comply with food safety legislation. Clients are provided with a certificate of compliance and a periodic specialist deep cleaning schedule and also receive a catering hygiene manual about the monitoring requirements of the Food Safety Act."
About Rentokil-Initial: The Rentokil Initial group specialise in pest control, hygiene services and interior landscaping for businesses across the globe. Using leading-edge, environmentally-friendly technology, their experts deliver a wide range of services to businesses of all kinds. Rentokil Initial South Africa has operations in all major business centres across the country. Read more about Initial's hygiene services, or to arrange for a free hygiene services survey of your kitchen, contact 0800 77 77 88.